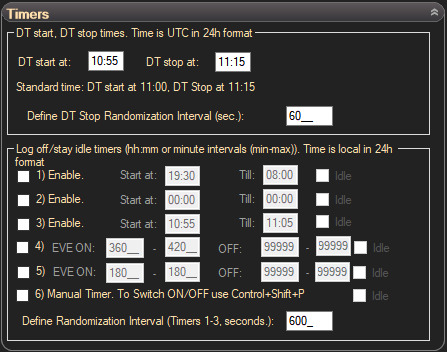 'DT start at' and 'DT stop at' times. This is UTC time of the EVE Online server downtime in 24HH:MM format. Standard EVE DT time is from 11:00 till 11:15. If you set different DT stop time, bot will login later after downtime. To randomize login time after downtime define DT stop randomization interval in seconds. Default value corresponds to 10 minute randomization. Without randomization bot will login to eve online at the same time after DT during several days and this is suspicious.

'Log off/stay idle timers'. First three timers will log of your client from 'Start at:' time until the 'Till:' time. This is in your local time in 24HH:MM format.

To start editing the timer you should enable it using the check box.

Check the idle checkbox to stay in-game during the timer which will simulate being afk.

The log off timers are global timers. If you start EVE Pilot within the logoff period it will wait while log off period finishes. If eve already started, log off timers are only activated in station or near POS.

Tip: Use the log off timer to log your client off before DT starts. Set up one of log off timers to start 10 minutes before DT and stop 5 minutes after beginning of DT. This way your bot will never be in space and disconnected during possible fight when eve server goes off for DownTime maintenance. Disconnect during fight means you loose your drones.

To randomize start and stop times for 1-3 timers define randomization interval in seconds.

Each client has its own 1 - 3 timers settings. If you want to share this setting between several clients to login or logout sinchronously, make a copy of the settings for each client. Timers 1 - 3 are the same for each client if you deside to switch function of the client (e.g. from miner to trader).

4th and 5th timers works differently. They count random login and logoff intervals. If you want one log-off during a day at random time you should setup one of 4 or 5 timers. These timers count time in minutes. Timers acts independently and resultion effect is a sum of effects of several timers.

4th and 5th timers are shared between several clients. This was made to make sure that several clients may login and log out at the same random time intervals.

6th Timer is manual and global timer. To set it ON activate the timer in settings and press Control+Shift+P, to disable timer (and allow bot to continue) press Control+Shift+P again. 6th timer may be used to temporary return your bot to station or POS and close eve or stay idle in station till you manually disable the timer with another Control+Shift+P and return client to work. FYI Control + P used as a pause hotkey.

There is an example of using 1-3 and 4-5 timers together: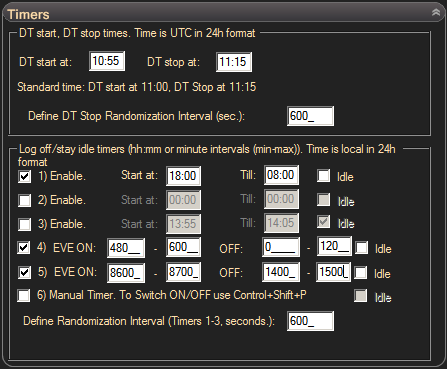 Timer 1 enabled from 18:00 till 08:00. That means bot will not work from 18:00 till 08:00 of local time. Working time of a bot is from 08:00 till 18:00 and equal to 10 hours. 10 hours per day is 'safe' time. Usually people dont play more then 10 hours or do this casually on weekends, not every day.

Timer 4 makes random intervals of 8-10h when bot works and 0-2h when bot does not work. We had 10h interval defined by timer 1 and when we apply timer 4 we have possibility that timer 4 initiate random log off somewhere between 08:00 and 18:00 and duration less then 2h.

5th Timer is applied to make 6 days of working time then random day when bot does not work.

Project discovery is a

minigame

in eve online. Non combat evepilot algorithms (miner, courier, trader etc) can run this minigame during idle timer to make sure it is started while ship is docked to a station. To activate project discovery addon enable one of timers with IDLE property ON and tick 'Start Project Discovery Addon'.