Welcome to The MacroLab, RnD laboratory of macros and bots for use with EVE Online!
Here at Macro Lab our mission is to provide you with software products that help you deal with the sometimes demanding and rigorous world of EVE Online. Our software programs known as macros or bots are designed to take control of EVE Online and perform tasks automatically for the user. Repetitive tasks such as mining or station-to-station hauling can be performed by our products 23 hours a day, allowing the user to leave the house while the macro has the ability to collect more ore than humanly possible.
The stability and efficiency of our bots are of most importance to our team. EVE Pilot, our bot designed for EVE Online, is based on advanced pattern recognition and visualization techniques that included optical character recognition, heuristics and non linear logic algorithms as well as simulation and modeling techniques. These advanced techniques allow our bots to handle any situation the game may present including connection losses, camera rotations or even changes in the color of the background. Each feature of our bots must undergo rigorous testing by our experienced bot development team to ensure that every time we update or improve our bots, we also increase the efficiency and stability of the program. This ensures that our eve online bots continue to become more productive, which means more ore and more ISK for our users.
Our mining bot, EVE Pilot, is able to support the needs of four actively playing people by providing the ISK needed for PLEX purchases and buying in game items. We are proud of what our programs are capable of and for that reason we offer free support for all of our products, free upgrades for life and a full no questions asked 30 day money back guarantee. Full support is provided through our private forums, live internet chat and through email. Our support team is directly linked to the development team and is capable of handling all our users needs. We invite you to read more about our EVE Online bot. See you in space!
The Macro Lab Team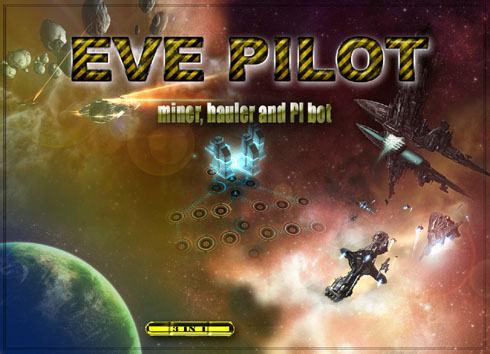 We are proud to announce the start of the EVE Pilot - multiclient mining, planet interaction and station-to-station hauling bot.
EVE Pilot is a bot for use with EVE Online that is capable of running multiple EVE clients, performing many tasks at once! EVE Pilot has been in development since September of 2009 and is based off Simple Miner (SM) by Gold Harvest Macro Solutions. EVE Pilot is a highly improved rewrite of SM using the C# programming language.
The first version of EVE Pilot was released on 26th May after the Tyrannis EVE Online expansion and only had a mining function. Since then the basic functions of the bot have been replaced and advanced features have been added, such as:
- Survey scanner support is a replacement of the empirical, asteroid size vs asteroid content estimation used in the old Simple Miner macro. The miner now knows exactly what the content of asteroids are and doesn't waste time at the end of a day when most of asteroids have less ore.
- Recognition of ore mining bonuses for a 5-10% increase of your profit.
- Multi functionality of the bot and the ability to edit the algorithms. Built-in algorithms that come with EVE Pilot enables; mining, station-to-station hauling, planetary interaction automation, bookmark creation for the miner and a combination of mining and planetary interaction. EVE Pilot's algorithm editor allows the user to create their own custom algorithms or edit algorithms created by other users including MacroLab's built-in algorithms. This new feature greatly improves the efficiency of the macro by allowing the user to have unlimited control over the way the mining bot behaves and acts.
NEW Planet Explorer Macros

As of version 2.4.0, EVE Pilot has a built-in Planetary Interaction (PI) addon. This is the first fully automatic planetary interaction bot for EVE Online and absolutely free for customers of EVE Pilot! Now if you purchase and EVE Pilot license, you purchase 3 valuable programs: a mining bot to collect ore, a deliverer or hauling bot to move items from station to station and perform other autopilot tasks and finally a planetary interaction (PI) bot to restart the extractors of your planets. 3 in 1, a good choice. The planetary interaction bot is the safest macro out there. Sitting in a station, with little risk of being reported for macroing. The planetary interaction bot will also help you to stay out of the Hulkageddon event, so level your planetary skills and test it. Integration of the planetary interaction bot with the mining bot allows you to mine planets and asteroids at the same time.

There has been several requests asking about the way EVE Pilot works. EVE Pilot does not use cache scanning or modifications of the EVE Online client and does not send anything to the EVE Online server. EVE Pilot reads the colors displayed on the screen and can work with any window on top, whether that is the EVE Online client or not. EVE Pilot doesn't send commands directly to the EVE Online client, it uses the keyboard and mouse buffer. The commands are sent the same as if you were pressing the keys on your keyboard or pressing the button on your mouse. In principle, EVE Pilot can send commands to any window that is on top. The source code for these functions can be found with IronAhk (C# implementation of autohotkey) where slav2gruzdev, who is the main developer of EVE Pilot, can be found on the list of authors. EVE Pilot is a legal program and not a hackers tool. The correct definition of this macro is a mouse and keyboard emulator. Macro Laboratory will always care about your safety and our reputation.

Recently CCP has been making an increased

effort

towards eradicating Real Money Trading (RMT) within EVE Online. RMT is the act of purchasing ISK for cash, through dealers on various websites. This is NOT SAFE and your character can be banned or deleted for doing these transactions. These dealers are under intensive watch by CCP and any transactions they make are monitored. Instead of directly purchasing ISK, purchase our mining and planetary interaction macro and make safe, worry free ISK. Making ISK with our mining macro and then purchasing a PLEX with the ISK you make will earn CCP income and is a much safer method. Bots contribute to the economy of EVE by producing PLEX's that provide a cash flow for CCP. The supply of PLEX on the market is

higher

than demand and the ISK for this supply must come from people who use bots. CCP rarely permanently ban bot users with a subscription, yet they are very likely to ban a bot user with a trial account because those users do not purchase PLEX and do not contribute to the economy. CCP says "Just say

NO

to RMT ISK" and we agree.